Post by FFMSL on Aug 28, 2016 0:59:27 GMT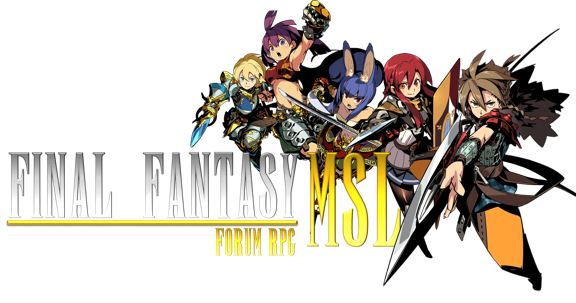 FFMSL
Adventure | No WC | Stats | Gambling | Slots | Triple Triad Card Game | Parties | Summons | All levels welcome | OCs welcome | Apocalyptic-scale battles
Come join a Roleplay experience unlike any other! Final Fantasy MSL is a play-by-post Literate Roleplay, that has its own stand-alone battle system, which is unbiased and doesn't require a moderator or admin to function. Aside from being fun, it is also extremely easy to learn and very addictive.
Moreover, the game is the perfect combination of roleplay and stats. The game has its own level-up system, which becomes the measure of a character's power in the game. Technically speaking, the higher your level, the stronger your are in the story. The attributes are fully customizable and you can select your own abilities from hundreds of different skills. For instance, you can put all your points to MAGIC and learn some really devastating skills to burn cities or to save lives. Overall, its a great place for people who want to create a fully custom original character in a fantasy setting.
The story is set in a fantasy world, a distant planet called Lunaris. The main focus of the first book is the continent of Wrozan. It is filled with magical creatures and spirits. The world does have its own lore, so feel free to read on that if you wish to know more about the planet's history. Earth also exists in this universe, and a link between both worlds is where the story begins. The main plot for the first book is the revival of the Old Gods, dark entities from space that corrupt and devour planets. They were beaten and are currently imprisoned deep within the planet. (read more...)
Special starter bonus! Double XP up to level 50!
Your FFMSL Final Fantasy adventure awaits!